When the pandemic hit and giving presentations in-person wasn't possible, we redesigned the required internship course credit assignment and hired a production studio to deliver a one-day event called Internships Showcase. Based on the three-minute thesis competition, we challenged our grads to present their Winter internship highlights in three minutes using only three slides. Internship supervisors were invited to attend and we brought them up "on stage" to comment. The result was a feel-good day where students and their employers celebrated their work experience. Since then, we've run the Internships Showcase every year.
Here are selected presentations that made the 2023 Internship Showcase memorable.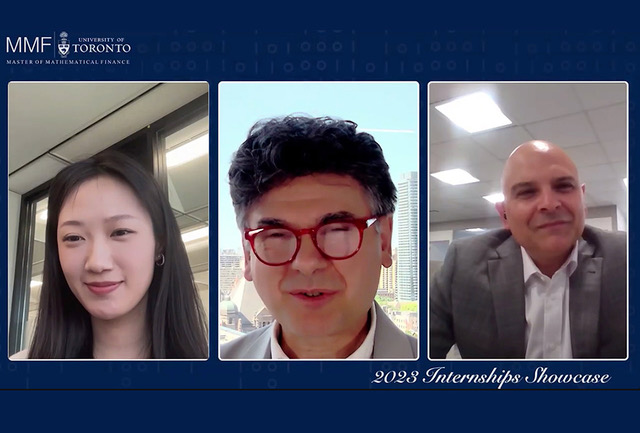 Our third annual Internships Showcase featured the talents our students bring to organizations that engage them. A day-long event with four segments, students presented their internship highlights from different spots in our student lounge at 700 University Avenue, our new location on the St. George campus.
Segment one featured students who interned at RBC. We've enjoyed a great relationship with RBC over the past several years, and this year they hired nine interns from the program. That's more than a quarter of the class! Eight of those interns presented in this segment, and four of them gave us permission to share their stories.
The first of those five grads was Ian Lee, who interned as a Credit Risk Analyst on the Credit Modeling & Methodology team. He's followed by Zixun (Eric) Zhai, who interned on the Global Risk Analytics Team. Next, Hanhua Zhang joined us from his home in China and told us about his time as a Risk Analyst on the Local Market Risk team. Last but not least was Huiwen (Wendy) Zhang, who closed the segment by sharing her experience as a Financial Analyst in the Global Asset Management Finance department.
Segment two was all about pension funds. We saw presentations from students who interned at CPP Investments, Ontario Teachers' Pension Plan, Healthcare of Ontario Pension Plan, and OPTrust. Three grads from segment two gave us permission to share their work.
A standout for being the first student to secure his internship, even before many had started their job search, is Linglong (Liam) Wu who worked as an Intern, Capital Markets – Credit, on the Investments team at Ontario Teachers' Pension Plan (OTPP). Next, we saw a presentation from Zhengzhi (Andy) Liang, who secured a coveted role as Global Macro Intern on the Interest Rates, Investment Management team at Healthcare of Ontario Pension Plan (HOOPP). Finally, Jia Jian (Jacky) Chan closed the segment with a look at his work as an Investment Research Assistant in the Portfolio Construction Group at OPTrust.
Our third segment was a mix of students who interned Big Four consulting firms, a global risk analyst and three global analytics financial engineers at Scotiabank, and two students who interned at Murex. Of those students, we'll share stories from two students who worked at Scotiabank and one from Murex.
Our first Scotiabank presenter was Maria Chen. She was a Market Risk Analyst Intern in Global Risk Management. The next presenter from Scotiabank was Global Analytics Financial Engineering Analyst, Mona Zhang. Finally, we heard from Siyu Jia, who was a Front Office Analyst at Murex.
Our fourth and final segment featured buy-side and sell-side quants, who secured some of the most sought after internships to be had. We kicked off the segment on the buy-side with Yiqu Ding who was a Fixed Income Intern at Alberta Investment Management Corporation, or AIMCo as it is known. We stayed on the buy-side with a presentation from Betty Qin, who was an Investment Risk Research Intern at Investment Management Corporation of Ontario, also called IMCO.
We skipped over to the sell-side to hear how our next presenter, Ziyu (Ritchie) Ling, spent his time as Quantitative Analyst on the Portfolio Construction team at Cortland Credit. Following Ritchie was Garrett McNally who worked remotely on the buy-side as a Quantitative Research Intern for Manhattan-based O'Shaughnessy Asset Management.
After that, we went back to the sell-side again, to hear from Joshua Kim, who completed his internship at RBC Capital Markets as a Front Office Quantitative Analyst in the Resource Management Group. We stayed on the sell-side for a presentation from Tongfei Zhou, who was an Analyst on the Quantitative Modelling and Analytics team at TD Securities.
Our final presenter of the day was on the buy-side. Michael Fecenko interned as a Quantitative Analyst on the Systematic Investing, Portfolio Management team at Purpose Investments.
It's hard to adequately express just how proud we are to showcase our students and their talents. Some of these grads are starting their full-time job search now, so if you saw someone who would make a great addition to your team, please contact Tracy Barber and she'll help you connect with that individual. Tracy can also help you gain access to our hiring portals.
That's a wrap!
Curious to see what other grads did in their MMF internships? Check out these presentations from 2021 and 2022.