Internships are steppingstones to kick-starting a career in quantitative finance. Every year, MMF grads work full-time from January through April, giving them hands-on experience using the cutting-edge skills they learned in the program. Employers include big five Canadian banks, top pension funds, asset management firms, big four consulting companies and fintech enterprises. What interns learn on the job shapes their professional growth.
Here's a look at what students in class of 2023 are doing right now.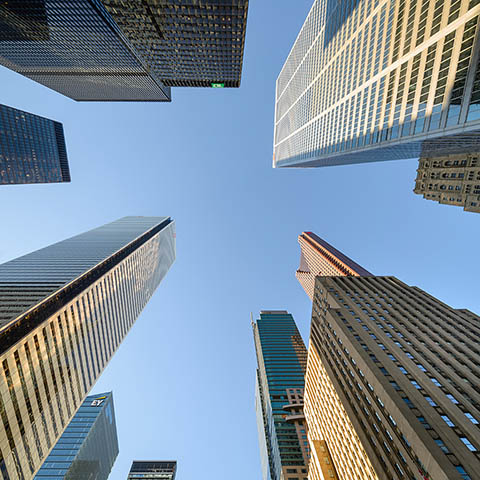 The quest to secure a winter internship starts in the summer prior, even before students have joined the program. One of the pre-registration tasks that students must complete in June is a resume refresh, which includes the privilege of including the MMF logo in the header.
"The MMF logo on a candidate's resume signals to the employer that the applicant is top talent," said Internships and External Relations Administrator, Tracy Barber. "We're fortunate to have strong relationships with employers and MMF alumni who both recognize and are eager to leverage the advanced quantitative skills taught in our program."
Students start their job search as soon as the first semester begins. Job postings for Winter internships appear on employers' job boards as early as July. Tracy captures these opportunities and posts them to the student portal. Students receive a daily email digest of new jobs.
In addition to receiving suitable internship opportunities, students are invited to complete a profile in our Internship Hiring Portal. These profiles allow employers to get to know candidates beyond their resumes. Once all student profiles have been populated, the portal is opened for employers, who can act as secret shoppers of early talent. Sometimes, an employer will reach out directly to a candidate they are interested in, share the job description and invite the student to interview. Other times, employers contact Tracy with a list of candidates they'd like to interview on a specific date and ask her set up the interviews. Employers need to act early to secure the best and brightest interns.
Employers typically interview candidates in September and begin making offers in October. The class of 2023 secured offers much earlier than usual, with a full one-third of the class receiving offers before the end of September. Another 15 students had offers by mid-October. The remaining seven students who diligently pursued their job search as their academic workload increased and internship opportunities decreased were rewarded throughout October and November, with all students securing offers by the first week of December.
Among the big five Canadian banks, RBC engaged the most students from MMF, many in different kinds of risk roles, though their earliest hire was a capital markets role. Scotiabank favoured several MMF candidates for global analytics and financial engineering roles, along with a global risk management position. A class of 2022 alumnus was on the interview team at TD Securities that chose a quantitative modelling and analytics analyst from this year's class.
Pension funds also found early talent in this year's class, with CPP Investments, Healthcare of Ontario Pension Plan (HOOPP), Ontario Teacher's Pension Plan (OTPP) and OPTrust hiring eight MMF interns in total.
Buy-side companies Investment Management Corporation of Ontario (IMCO) and Alberta Investment Management Company (AIMco), which recently set up a Toronto office anchored by an MMF alumnus from class of 2004, offered roles in investment risk research and fixed income, respectively. Manulife hired a quantitative analyst from our program again this year. Boutique asset management firms Cortland Credit and O'Shaughnessy provide unique, hands-on experiences for quant analysts and quant researchers, as compared to working for a large institution.
For the past two years, Purpose Investments has delivered an info session on the value of working for a smaller investment firm. To secure an interview, candidates must complete a highly competitive technical test. The stakes are high: the internship itself is considered a four-month job interview for a potential return offer.
Big four consulting firms PwC and KPMG struck gold in MMF early talent as well. Two grads were excited to secure roles in core risk and deal advisory, valuations. Equally excited to secure front office and enterprise risk management roles were two more grads who were hired by Murex, a leading capital markets technology solutions provider.
Winter internships start in January and run through to the end of April. By February, interns have on-boarded and are contributing their talents to their team. It's a good time for everyone to have a one-on-one check in with Tracy.
"I'm always eager to hear how things are going. I get a high-level overview of the work they're doing. I ask how well they are connecting with their teammates and what their workload is like," said Tracy. "I also make sure they are looking after themselves and finding ways to stay healthy when they aren't at work."
Towards the end of March, Tracy will check in with the students' supervisors as well. If past years are any indication, she expects to hear lots of positive feedback about the skills MMF 2023 grads are bringing to the workplace. But there's always room for improvement, so she also asks in what ways each student can develop further.
When students return for their final semester in May, they are tasked with preparing a three-minute presentation highlighting the work they've done. During the pandemic, these presentations were delivered online in a professionally produced event called Internships Showcase. We can't wait to see this year's presentations!
Curious to see what grads do in their MMF internships? Check out these presentations from 2021 and 2022.